Allow us to introduce you to our favorite new TV channel. Actually, it's not a channel at all, but rather a unique collection of content designed to give you—the airline passenger—information specific to your travel destination (or layover location) while you wait to board your flight.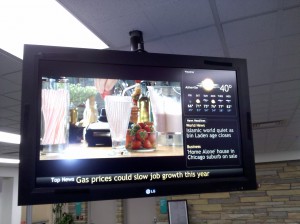 Now featured in the gate areas of our terminal are three Prodigiq Airport TV Network televisions that feature programming directly related to the destination in which you're about to land. For example, if you're waiting for a flight to Orlando on AirTran, you might see information about dining or attractions, or the current weather conditions, in Orlando. You'll also get real-time flight information, breaking news, business and sports news—even cooking demonstrations.
The three flat-screen monitors cover all seven gates—two near gates 1–3, and one near gates 4–7.
One of our favorite features is the ability to choose where you sit and how much audio you hear as a result. Pick a front-row, center spot and you'll be treated to audio from multiple speakers. Select a seat a few rows away and you'll have enough quiet to read a book and still glance up to catch headlines.
The audio has also been carefully set at a level that allows passengers to hear the all-important airline announcements.
It's not just the programming we're excited about, but also the power-saving schedule that turns the screens on for the first passengers arriving at the airport in the morning, and shuts them down between flights and for the night, after the last flight arrives.
As we develop more tech-centric services for passengers, this system can easily be integrated with airport messaging, ADA-compliant messaging and airline announcements, all in the name of helping you take the easy way out.