Today we are thrilled to announce brand new service on Allegiant from Asheville Regional Airport to the Tampa Bay area — St. Petersburg/Clearwater International Airport, to be exact. The new flights will begin in June and will operate on Tuesdays and Thursdays, giving Western North Carolina travelers the perfect opportunity to take a short flight (about an hour and a half) to a long weekend (Thursday to Tuesday, anyone?) in the beautiful gulf coast of Florida (yes, please).
But perhaps the most delicious part of this story is that the St. Pete airport identifier code is PIE. To which our executive director, Lew Bleiweis said, "Shouldn't we do something with pie to celebrate?"
And we never say no to pie.
In fact, we immediately placed an order with the local and delicious Carolina Mountain Bakery for pies of all kinds (especially Key Lime Pie – a Florida tradition), and served up slices for all our passengers who were in the gate area this afternoon when we made the official announcement about the new service.
With local media representatives and passengers gathered 'round, our Authority Board chair, Mr. David Hillier, spoke about the partnership between the airport and Allegiant, and the success of the Orlando and Fort Lauderdale flights.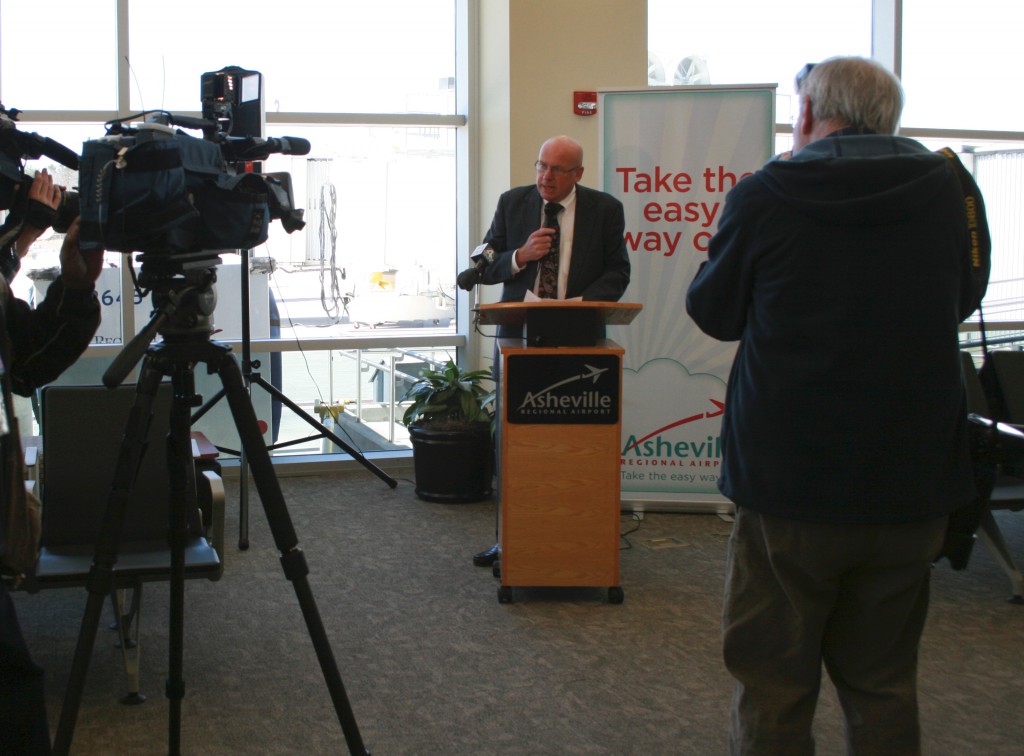 "Allegiant has provided service to Orlando from the Asheville Airport for about a year and a half, and that's been very successful," said Hillier. He added, "Since November, we've had Allegiant service to Fort Lauderdale. So we've got the center of the state covered, and the Atlantic coast of the state covered. Today we're very happy to announce to you non-stop Allegiant service to another popular Florida destination: the Tampa Bay area."
Because we know how many of you have been asking for flights to that Tampa Bay area, we're feeling a whole lot of satisfaction knowing that, in partnership with Allegiant, we're now able to meet another air service need for Western North Carolinians.
As you've probably gathered, we're pretty excited to serve up new air service for our community. And handing out slices of pie wasn't too bad either.
Truth be told, we're big fans of having your PIE and eating it too.
To check fares or book your trip, visit www.allegiant.com.