​

AVL is committed to following best practices to protect the travelers of WNC.  Thank you for also doing your part and educating yourself about what to expect so we can all  #travelsmart.  Together, we can enhance the health and safety of everyone involved in the travel journey.

​

ENHANCED CLEANING PROCEDURES - Enhanced and frequent cleaning of high-touch surfaces in public areas (including counters, handrails, elevator buttons, seating, doors and other such surfaces).  The procedures include use of electrostatic sprayers to disinfect large surface areas.
THE CDC RECOMMENDS USE OF FACE MASKS IN PUBLIC TRANSPORTATION - Masks are not required, but are recommended by the Centers for Disease Control.  Complimentary masks are available at our Guest Services desk. 
SOCIAL DISTANCING –  Keeping your distance from others outside of your travel group is still a good practice to promote health and safety.  Watch for social distancing markers and signs in the airport.  The airport is very busy again, so social distancing may be difficult at times.  Please be aware of your surroundings, and respectful of others, and distance yourself from others outside of your travel group when possible.
PLASTIC SHIELDS - Acrylic "sneeze guard" shields are in use at the Guest Services desk in Baggage Claim.
HAND SANITIZING STATIONS - These stations are located in high-traffic areas throughout the airport.
EDUCATION - Signage, overhead announcements and other communication strategies are in place to help all guests maneuver the travel journey as safely as possible.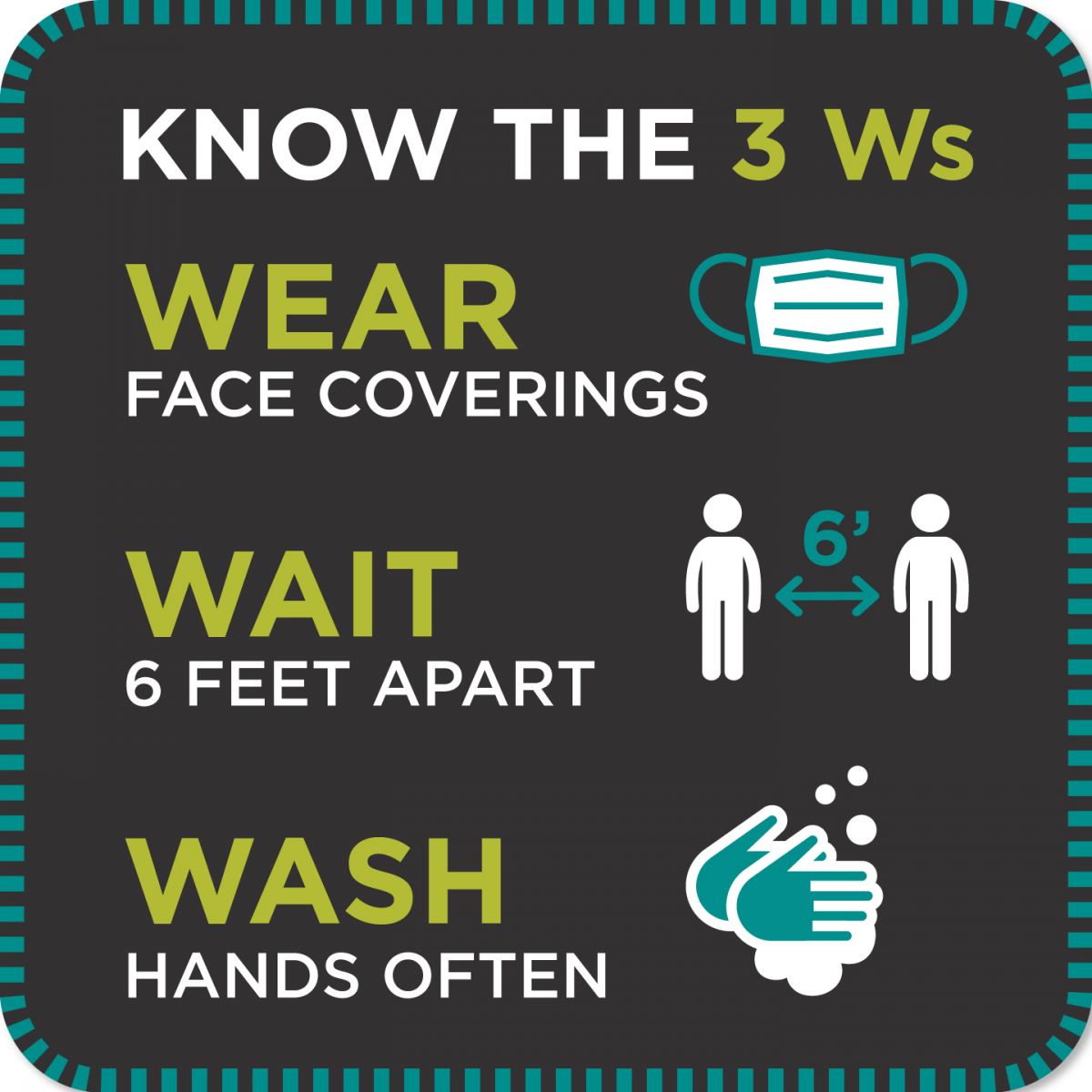 Know the "3 Ws" — WEAR. WAIT. WASH.
Wear a mask that covers your nose and mouth (recommended, but not required).
Wait 6 feet apart from others.
Wash your hands often, with soap and water – 20 seconds each time.

Helpful tips to remember

Allow ample time to arrive at the airport before a flight to avoid crowds.
Check airline's travel requirements before coming to the airport, as many airlines have specific guidelines.  
Use technology to reduce touch-points whenever possible, such as mobile boarding passes and check-in.
If you are sick, do not travel. Stay home and consult your health care provider.

Remember — your precautions will not only protect you, but also those around you.
MORE HELPFUL LINKS
If you are traveling, and are concerned about the impact of the COVID-19 virus on your trip, please consult the CDC for useful information: LEARN MORE >

Please note:  The U.S. Department of State updates travel bans and other information routinely. LEARN MORE >