You'll find great amenities throughout the terminal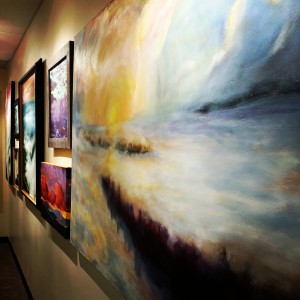 SHOP + DINE + RECHARGE
Free Wi-Fi
Recharge stations
Courtesy phones
Vending machines
Gift shops
ATM, pre-security
Café with restaurant menu, pre-security
Full service restaurant + bar, post-security
 Auntie Anne's® + Cinnabon®, post-security
Business Center, near Gates 1-3, post-security
Guest Services Center, Baggage Claim
Water bottle filling stations, post-security
Rocking chairs, post-security
Postal box, pre-security
Art Gallery, pre-security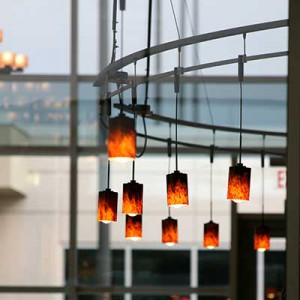 Guest Services
Located in Baggage Claim, our Guest Services Center is open from 8:30 a.m. until the last flight arrives in the evening. The friendly, knowledgeable staff at the Center will be happy to help you with:
Ground transportation arrangements
Directions
Area maps + brochures
Flight information
Luggage cart rental
Paging
Postage + shipping
Copying + faxing + scanning
Let us assist you: Phone: 828-209-3660 E-mail: gs@flyavl.com

Dining + Gifts
The Blue Ridge Trading + Tavern Featuring a full restaurant and bar, complete with locally brewed beer, the Blue Ridge Trading and Tavern should be a part of every traveler's experience. Enjoy panoramic views of the runway while you dine on delicious, custom creations and locally made baked goods. (post-security) In front of the Tavern you'll find our CNBC gift shop. With a wide variety of magazines, books (featuring the "Read and Return" program), travel essentials, Asheville apparel and gifts, and a variety of "local" products, there's something for everyone. (post-security) While you are in the main lobby area or if you are waiting to pick up a traveler, stop by the café area — where you can grab a coffee, snack, and a magazine or have a seat and order anything off of the full Tavern Menu. (pre-security)
"Treat our Troops" — A small thank you to our brave servicemen and servicewomen Blue Ridge Tavern offers a great way to "Treat our Troops" with a token of appreciation. Simply add a $5 meal voucher to your tab or purchase at the tavern and the next enlisted soldier passing through the airport will get $5 towards their meal. This program is just a small way to say thank you to all the brave men and women in the service as they travel through AVL.
Cinnabon + Auntie Anne's Serving fresh, hot pretzels made on the spot since 1988, Auntie Anne's has more than 1,500 locations around the world. Cinnabon not only has millions of fans of its delicious cinnamon rolls and other treats, but locations in more than 50 countries. Cinnabon and Auntie Anne's fans can find their favorite menu items at the Asheville Regional Airport location. Cinnabon's world-famous cinnamon rolls are available for purchase, along with Center of the Rolls, CinnaSweeties, and the new BonBites. (post-security)