A huge part of Western North Carolina's identity is tied to the incredible artistic talent that can be found here. From sculptors and painters to photographers and wood turners (not to mention all of the musicians!), there is a plethora of remarkable ability concentrated here in the mountains.
Five years ago in June, we launched a program called Art in the Airport for the sole purpose of supporting the arts — and showing off the work of these artists — right here in our airport terminal. What better way to welcome new visitors, we thought, than to give them a taste of the inspired culture that thrives here — before they even set foot on WNC soil.
And so we dedicated a humble 364-square-foot space to this goal and that first year we opened three exhibits (June, August, and November) and had some fantastic work on display. Year two brought four more exhibitions and 126 artistic treasures to our gallery.
All told, since 2007, we have featured 134 artists from 10 counties, and more than 500 pieces of artwork have been displayed. From artists with decades of experience, to teenagers just dipping their toes in the waters of creativity, our gallery has hosted some of the most exceptional work to be found in Western North Carolina.
Our first exhibit featured student artwork — primarily students from our own UNCA — and was a great way to kick off the program. There's something about young talent that is truly inspirational.
After that first show, there was no turning back and the flood of artwork rolled in, with each piece taking its place in our gallery's history, and some finding new homes in the residences of enamored buyers.
If these examples aren't proof enough of the rich artistic culture, we welcome you to visit the airport to see for yourself the latest exhibit, which features photography and sculpture by five local artists.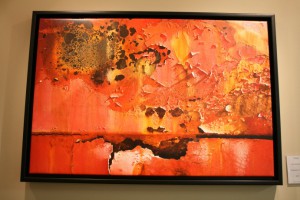 It's been an inspiring five years of Art in the Airport and we owe it to the imaginative and dedicated artists of Western North Carolina — thank you for sharing your talent with us and with the world!
Are you an artist, or do you know someone who is? We invite artists of all kinds – and all levels of experience – to apply for Art in the Airport. There's no fee to apply or to display your work if you're selected, and it's a great way to gain exposure. For more information, visit flyavl.com and search "Art Gallery."
Selections from the current exhibit, featuring Binna Green, Ivana Larrosa, Ed Law, Barbara Sammons, and David Simchock.