Since 9-11, a lot of things have changed in the aviation world. Perhaps the most notable transformation was the introduction of the Transportation Security Administration at security checkpoints nationwide. Our TSA agents work hard to keep us safe as we fly, and the agents at Asheville Regional Airport receive especially high marks from passengers for their friendliness, helpfulness, and all around jobs-well-done. (Good job, TSA!) One of the TSA's most visible duties is the confiscation of prohibited items, and if you've traveled recently and inadvertently (or advertently — that's a word that should be used more often) attempted to take a prohibited item through security, you know exactly what we're talking about, and you're not alone. Despite the fact that TSA maintains a list of prohibited items on their website (which you can find here), millions of travelers each year must abandon items at checkpoints — pocket knives, wine corkscrews, and the occasional mercury tooth filling. Just kidding — fillings are permitted to stay in place as they have not yet been deemed dangerous, at least not to airline passengers. The controversy over the danger of mercury fillings to your health, however, remains. But we digress. Our Department of Public Safety oversees a growing collection of items confiscated by the TSA. Most of these items will be taken to a metal scrap yard, melted down, and made into a brand new pocket knives — one of which you'll probably go out and buy to replace the one you left at the checkpoint. It's the sheer volume of items confiscated that's so amazing. Take this box full of wine corkscrews for example: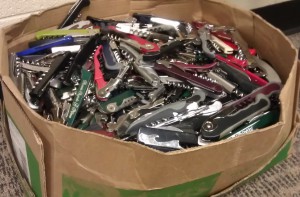 Or this box of knives: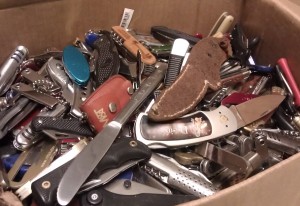 Which is just one of these THREE boxes of knives: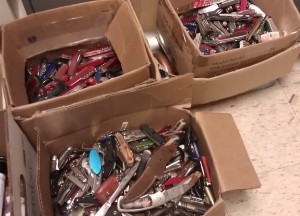 And if you look really hard, below the box on the upper right, you can just barely make out the edges of several small barbells, which leads us to believe that the line blurted by luggage-toting husbands for decades — "What'd you pack in here – weights?!" — may, in fact, have a non-fiction origin. We'll leave you with a picture of our favorite confiscated items currently in the Confiscation Closet (okay, we don't really have a room called the Confiscation Closet, but it sounds pretty cool, so let's go with it).
Until next time, take the easy way out by packing light, packing smart, and traveling safely!