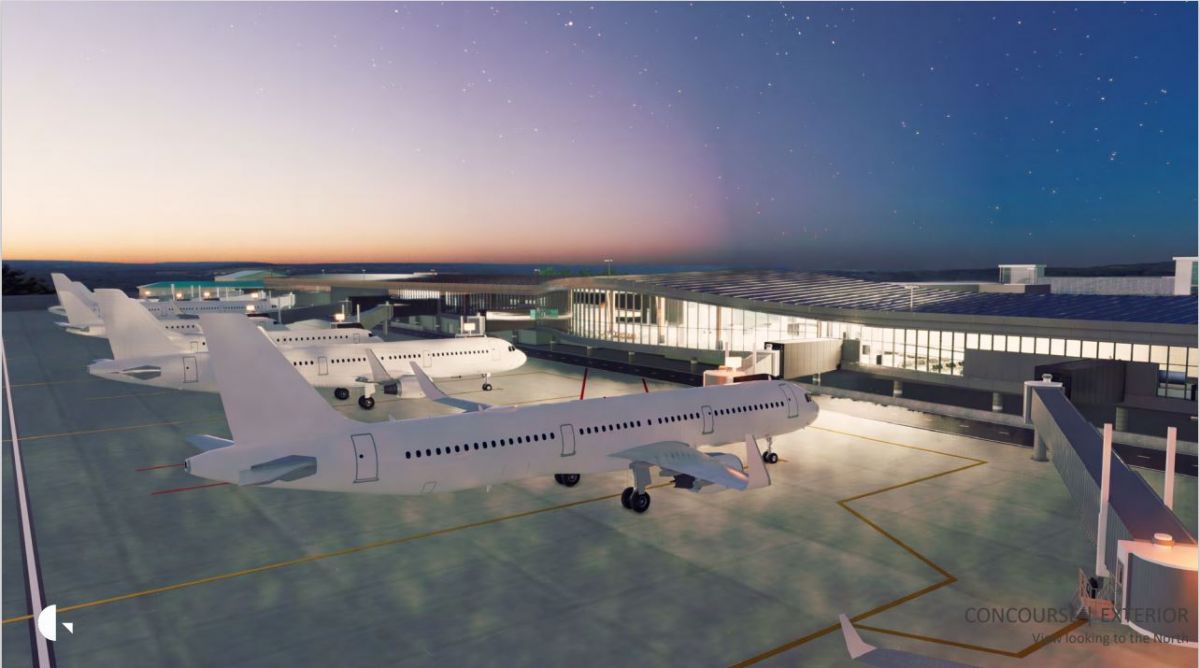 (Asheville, N.C.)  Asheville Regional Airport (AVL) began a terminal design project nearly 18 months ago, working with architects at Gresham Smith, and is releasing a sneak peek at a few of the design concepts that have been developed.  The design project, nearly fully funded by Federal Aviation Administration grant funds, is important to the strategic long-term planning and growth of the airport, and will result in detailed plans for an expanded and modernized airport that will serve the air service needs of western North Carolina for decades into the future.  The design is the first step, and then the airport board will determine when the project will proceed forward.
"A design project like this takes 18 months to two years to complete," said Lew Bleiweis, A.A.E., Executive Director.  "We began the process more than a year ago, at a time when our passenger numbers were far exceeding the existing capacity of our terminal building at peak times.  A new larger terminal is necessary to keep up with the demand – our growth is already returning."   
The design process began with many stakeholder meetings, both with the internal airport team and with community leaders, as well as a large community survey with more than 4,000 responses.  "We are proud to have incorporated local input into the design principles, and are pleased to share our progress so far," said Bleiweis.
The goals of a new terminal design are focused on achieving several strategic objectives:
·         More space to accommodate existing and future growth projections to include:
o   expansion from 7 to 12 gates with ample room for passenger flow
o   additional aircraft parking space
o   expanded and modernized ticket lobby, TSA screening, baggage claim, concessions space
o   centralized power plant
·         Flexibility in design to allow for enhancements and innovations as air travel evolves
·         Thoughtful design, guided by community, employee and key stakeholder input
An overarching design principle has guided decisions throughout the process:  to create a modern gateway, humbly rooted in timeless natural beauty.  "This design principle was a direct result of engagement with the local community, stakeholders, airport vendors and many others," said Brad Sucher, Senior Architect and Project Manager at Gresham Smith.  "And we currently are transforming these meanings into images that help lay the framework for AVL to represent the western North Carolina region.  It is exciting to begin sharing these concepts."
There are still months remaining in the design process, and then the airport will determine next steps, including funding plans and a specific timeline to move forward.  More official information will be shared at that time.
Asheville Regional Airport is the fourth largest commercial service airport in North Carolina, and was one of the fastest-growing airports in the country in 2018 and 2019.  Served by four airlines (Allegiant, American, Delta and United), AVL offers 18 nonstop destinations and frequent daily connections to and through international hubs.  For more information about AVL, visit flyavl.com.
# # # # #