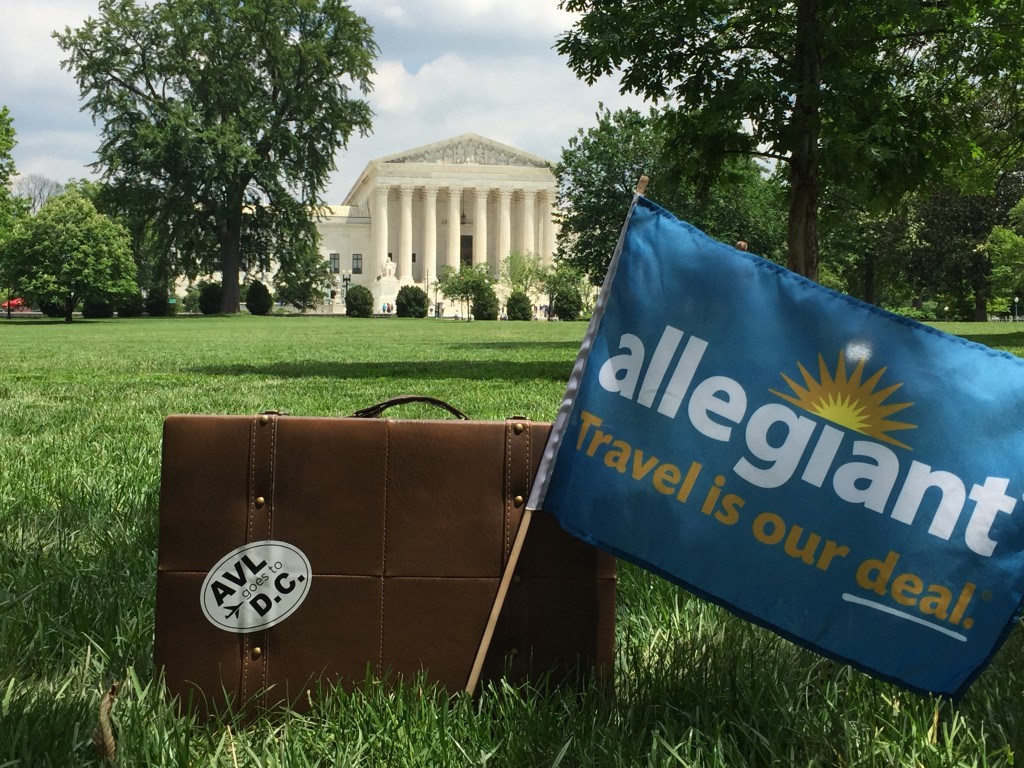 When Allegiant announced that they were starting a summer seasonal non-stop flight from AVL to Baltimore Washington Thurgood Marshall International Airport (BWI), it was great news for WNC air travelers!  A quick and easy flight to the Washington, D.C. area has been on our "wish list" for many years.
After the announcement, we learned that some travelers did not know that BWI is an easy gateway to Washington, D.C.  So, we decided to investigate.  A team of AVL staff, a representative from our Convention and Visitors Bureau, a representative from Allegiant and several local media personalities boarded the inaugural flight to BWI from AVL on May 19, 2016.  Our mission?  Document the experience of flying non-stop from AVL to BWI, and share the details about how easy it really is with travelers in our region.
Was the experience easy?  Was it efficient?  Would we do it again?  Yes, yes and YES!
Here's what we learned:
The non-stop flight to BWI from AVL departed on Thursday morning, May 19 at 8:45am, and just 59 minutes later, we landed in Baltimore.  A one-hour flight – so easy!
 
When we walked off the plane, the airport was welcoming and easy to navigate.  A quick walk (literally a few minutes) later, we exited the terminal and found shuttle buses waiting for us.  The BWI shuttle buses that run between the airport and the MARC station (Maryland Transit Administration commuter rail) operate every 6 minutes.  We hopped right on the bus.
 
Five minutes later, we arrived at the MARC/AmTrack station.  (Side note – this train station offers connections to Washington, D.C., Philadelphia, New York City and more.)  The commuter train (the "MARC Red Line") travels directly to Washington, D.C.'s Union Station.  The trip is about 30 minutes, and these trains leave the station about every hour.  We waited a little while, and then hopped on the train and headed to D.C.
 
When we got to Union Station (the train station in Washington, D.C.), we walked outside and … Tah, Dah!  The Capitol Building was a few blocks ahead.  We made it to Washington, D.C. in just a few hours.  And everyone agreed that the trip was super easy.
Once we got to D.C., we were reminded about the city's historic grandeur.  There are so many amazing sights to see, from the Capitol Building and the Supreme Court, to the Washington and Lincoln Monuments.  War Memorials are everywhere, and in between the Capitol and the Lincoln Memorial are many Smithsonian Museums (like the Air and Space Museum and the Natural History Museum).  There's the Washington Zoo, The White House, Arlington National Cemetery, and more.  Most of the museums, the zoo and tours of the government buildings are free.  Washington, D.C. is a wonderful place for a long-weekend getaway, or a week-long family vacation.  Here's a link to more information about things to do when you visit D.C.:  WASHINGTON.ORG
The non-stop flight from AVL to BWI/DC area is a wonderful addition for WNC travelers this summer.  Don't wait – book soon!  ALLEGIANT.COM