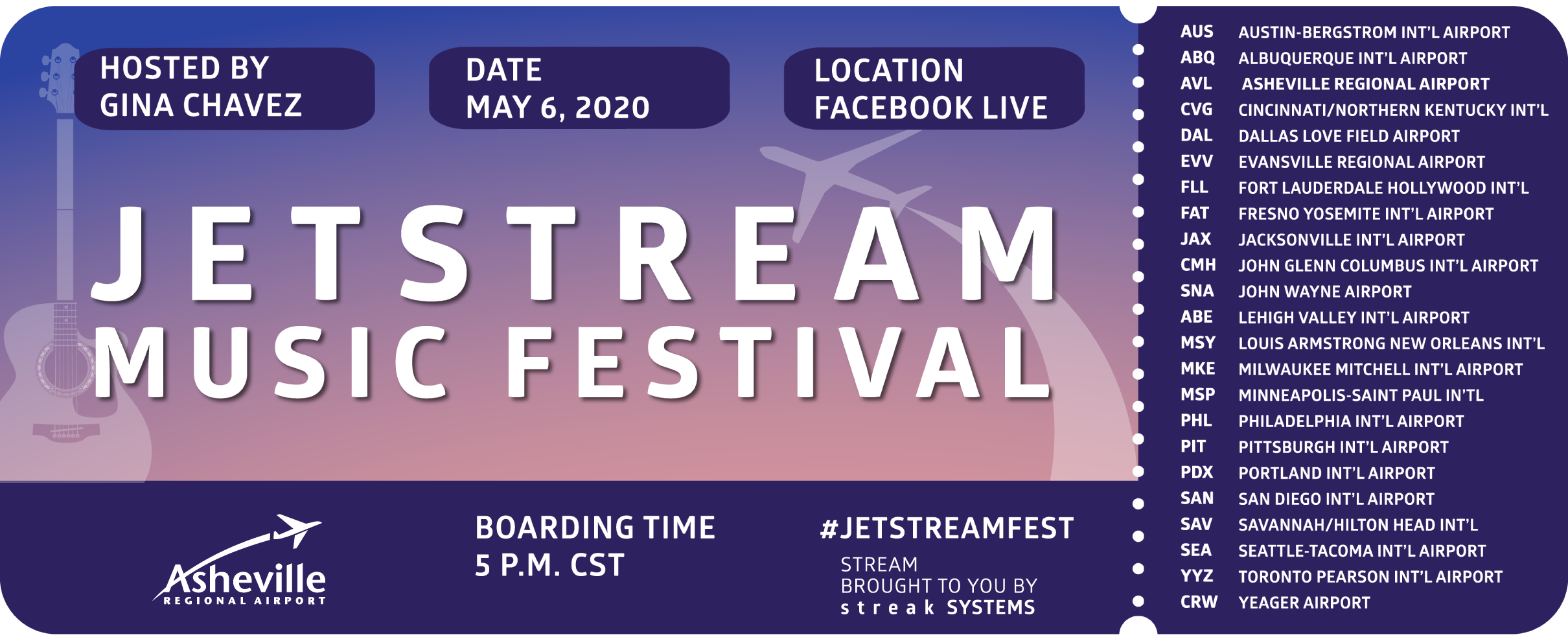 (Asheville, NC)
Asheville Regional Airport to participate in the first-ever JetStream Music Festival, a national on-line event that will feature musicians from 23 cities
For one night only, 23 airports across North America will come together for the JetStream Music Festival, an online celebration of local music. Hosted by Austin-Bergstrom International Airport from the "Live Music Capital of the World" in Austin, Texas, the free, multi-hour livestream will take place at 6 p.m. EDT on May 6 on participating airports' Facebook Live. Each airport will feature a musician local to their city in support of the creative community during the COVID-19 crisis.

The lineup features a diverse range of acts, representing each city's unique music culture. The full lineup for the Festival will be released later this week. Austin's Latin pop songstress, Gina Chavez, will perform and host the event.

Festival viewers will be able to tip musicians throughout the performance and learn about organizations assisting the communities in each city. Viewers can also join in the celebration using the hashtag #JetStreamFest.
Asheville Regional Airport will feature a local artist who is part of their "Music on the Fly" pop-up concert series, presented by Ashvegas.com.

 "We're all looking forward to the day when our airport is busy with travelers again, and our unique passenger amenities can also be reinstated," said Lew Bleiweis, Executive Director.  "We love welcoming local musicians to the airport to share their talents, which helps shine a spotlight on the vibrant music scene in western North Carolina. So, in the meantime, we hope you'll tune in and enjoy this virtual "airport" concert featuring talented musicians across North America."

"Having Music on the Fly, the Asheville airport's award-winning music program, featured in the online music festival will be a thrill," said Jason Sandford, founder of the hyper-local news and entertainment website Ashvegas.com. "It's been so much fun to shine a little spotlight on Asheville's vibrant music scene through the Music on the Fly partnership with the Asheville Regional Airport," Sandford said. "We've literally brought dozens of talented musicians to the airport over these past four years to liven-up the airport with pop-up concerts," he said. "It's exciting to have the program be a part of this national online event."

For more information—including how to tune in — CLICK HERE.

The livestream will be brought to you by Streak Systems, a tech concierge focused on creating and maintaining technology systems in your home, work and live events.

Participating airports include:
●    Austin-Bergstrom International Airport (AUS) – host 
●    Albuquerque International Airport (ABQ)
●    Asheville Regional Airport (AVL)
●    Cincinnati/Northern Kentucky International Airport (CVG)
●    Dallas Love Field Airport (DAL)
●    Evansville Regional Airport (EVV)
●    Fort Lauderdale Hollywood International Airport (FLL)
●    Fresno Yosemite International Airport (FAT)
●    Jacksonville International Airport (JAX)
●    John Glenn Columbus International Airport (CMH)
●    John Wayne Airport (SNA)
●    Lehigh Valley International Airport (ABE)
●    Louis Armstrong New Orleans International Airport (MSY)
●    Milwaukee Mitchell International Airport (MKE)
●    Minneapolis-Saint Paul International Airport (MSP)
●    Philadelphia International Airport (PHL)
●    Pittsburgh International Airport (PIT)
●    Portland International Airport (PDX)
●    San Diego International Airport (SAN)
●    Savannah/Hilton Head International Airport (SAV)
●    Seattle-Tacoma International Airport (SEA)
●    Toronto Pearson International Airport (YYZ)
●    Yeager Airport (CRW)
Beyond the music, viewers will hear from leadership at many of the airports. Airports across North America remain open for essential travel and vital cargo. Employees in these facilities are working around the clock on enhanced cleaning operations, continued airport maintenance and operations, security, and more. Airports are a critical component to the supply chain—including for medical supplies—and continue to provide services for those who must travel.
###
One of the fastest growing airports in the country for the past two years, Asheville Regional Airport has experienced six consecutive years of record growth.  As the gateway to and from Asheville, North Carolina, the airport's focus on live, local music is a fitting tribute to the region, which was named National Geographic Travel's #5 music city in America. For more information, including operational updates about COVID-19 and the airport, visit flyavl.com.