By Callie Polk, Marketing and Public Relations Specialist There are so many factors that go into setting airfare, so we thought we would try to break it down.  Keep in mind – we only know the basics.  The airlines have their own business models that vary, and pricing strategies are pretty confidential!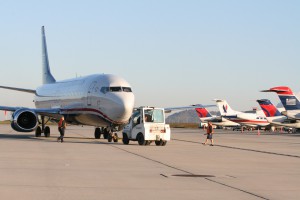 First of all, it is important to understand that airlines set ticket prices, not airports. AVL has no control over the day-to-day airfare prices, and prices can vary from day to day or even minute to minute.   It all starts when the airline chooses a particular aircraft for a flight route – that determines how many seats are available per flight – otherwise in the industry known as capacity. The type of aircraft also determines how many seats are available in each class (first, business, coach, etc.). Each class is then broken down into a sort of "fare bucket" system where maybe out of 100 coach seats, every 10 have a different set of pricing stipulations.  And these fare buckets vary based upon the markets served, and the best pricing that can be achieved. So in addition to the base price (which, as we've indicated, varies greatly based on routes, seats, origin markets and demand for the service), some other costs come into play that affect ticket pricing:
Ticket taxes
Airport facility use fees (called "Passenger Facility Charges" that are up to $4.50 per boarding)
Fuel costs and surcharges
And then there are the optional services a passenger may elect to include:
On-board amenities, such as Wi-Fi and meals
Selection of seats or better seats
Baggage fees
OK.  So the base ticket pricing is now set.  The next question we often hear is, "Why do fares fluctuate so much?"  The age old answer applies: supply and demand in the market. Based on seat availability and demand, prices can change throughout the day, week or month. Airlines use sophisticated computer software to monitor buyer habits and trends, and to raise and lower prices when the demand is expected to be higher or lower, respectively. These price fluctuations include times of year, holidays and heavy vacation times, and days of the week. Generally speaking, a flight on a Monday, Friday or Sunday can cost more than others because they're generally busier flight days. Same goes for the time of day – if it's a prime time to fly (say right after work on a Friday) you might just pay more. The complexities of airfare pricing are related directly to profit maximization. Airlines are in the business to make a profit – much like any for-profit business, large or small. In order to do so, they have developed these sophisticated and complex pricing models.   (Again – there is so much more to it, but we'd need an airline pricing expert to tell that story!) You may wonder – if airlines want to fill their planes, why not lower costs right before the departure date to gather as many passengers as possible? Another piece of this pricing puzzle is that oftentimes, it can be more profitable to sell a few high-dollar tickets to travelers on a deadline (the business traveler) than to sell 20 tickets at lower rates. However, if the coach seats haven't been filled – an airline might open up a new "fare bucket" for those seats to make sure costs are covered. Finally, comparing fares at different airports is common.  What does a comparison tell you? It can give you a snapshot of a moment in time.  Remember, fares change.  A lot.  Especially if there are market conditions that dramatically affect supply and demand.   Each airline is monitoring different factors that affect prices at each different airport. And the market is king. Check AVL first for your travel needs.  And perhaps, if you can, check often.  We monitor fares routinely, and on average, fares from AVL are competitive.  There are even great deals to be found. For more information, visit flyavl.com.