That's right. Out of the 100+ people who work in, around, and for the Asheville Regional Airport, there's only one who secretly hopes your flight is delayed. We sat down with Todd Levick, General Manager of our own Blue Ridge Trading + Tavern, to get answers.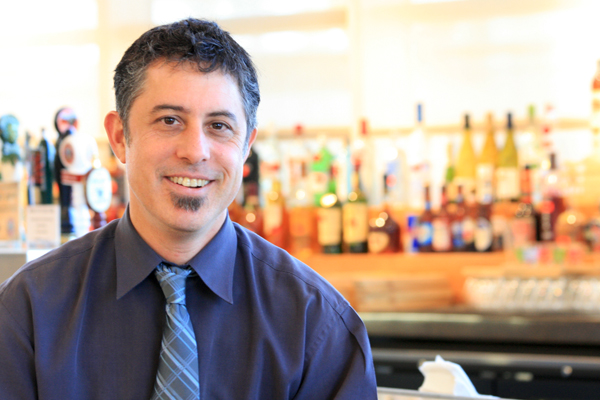 Asheville Regional Airport (AVL): Let's start with the big question: Why, oh why, do you hope for delayed flights?
Todd Levick: Well, when I travel, it's the last thing I want, but here, in an airport restaurant, it's good news. It's against my nature to want something negative for someone, so it's kind of a strange feeling when I find myself happy that a flight has been delayed. Really though, I want people to be slowed down and for the Blue Ridge Tavern to be a place that changes a negative experience (like a delayed flight) into a positive one where someone walks away saying, "Man, I'm so glad I got to experience this – farm-to-table food, a great server, the best burger I've ever had." That's what I want. AVL: So you're not really a bad guy. What about you? When you fly, where do you go? TL: Honestly, I don't fly very often, but when I do I go home to Boston. One of my favorite ways to travel is actually on the road in the middle of the night when no one else is driving. AVL: You're not supposed to say things like that when you work in an airport! This is supposed to be an airport story, promoting air travel! Anyway, while we're on the subject, tell us the best thing about working here, managing the Tavern. TL: Lots of things, really, but probably all the different people converging in this one place for different reasons—almost like a Field of Dreams thing—and being able to experience that. AVL: Okay, so here's a big question: why isn't there a restaurant and bar in the pre-screening lobby area, and when can travelers expect to see something? TL: I can't answer the second part yet, but the first part is easy: less than 10% of business is done on the pre-screening side of an airport, so from a business standpoint, it's a lot of money to invest into something that offers little return. However, we are definitely looking at this. We know people want it. AVL: Let's talk business for a second: what's your top selling item? TL: Water. Everybody wants water. And then coffee. Gum and magazines are big too. AVL: What's your favorite thing on the menu? TL: Well, my favorite thing is actually something that's not on the menu yet—shrimp and grits. But the most popular thing is our burger. I've had people say, "I don't want burgers anywhere else now." It's the best burger in town: Brioche buns, local produce whenever possible. If you're going to do a burger, make it the best burger imaginable.
AVL: How do you motivate your staff to provide great customer service?
TL: Example. Hiring the right people and leading the charge every day. It all starts at the top. There's a lot of passion in our company about designing an intentionally great experience, and there's a lot of passion about great customer service, which is evidenced by the fact that The Paradies Shops (our parent company) has won the Airport Revenue News award for "Concessionaire with Highest Regard for Customer Service" for 15 years, and "Best Airport Retailer" for 16. It's about the culture, not just the training. AVL: Last question: what's new and exciting for 2012? TL: Redefining our menu and listening to what our guests want. We try to do a little bit of everything, but our identity is a Southern, fresh, something-for-everyone tavern. When I travel, I look for the Irish bar, so I love the tavern aspect of who we are. We also want to connect more with the community and become even more of a destination restaurant where people have to come to the airport an hour early, not because TSA said so, but because they want to be waited on by their favorite server and enjoy a great experience. Learn more about Blue Ridge Trading + Tavern or take a look at the menu.