Paradies Lagardère, an award-winning airport restaurateur and retailer, and Asheville Regional Airport (AVL) are proud to announce that a new food and beverage outlet, Aletitude, is now open at the airport.
Aletitude offers a grab-and-go concession area and bar, which is a convenient option for passengers. The bar serves a selection of on-tap and bottled beer and wine, and also offers grab-and-go salads and sandwiches. A large selection of snacks can be purchased in addition to bottled drinks. The bar has a seating area where passengers can enjoy their food and drinks while they wait for their flights to board.
Aletitude is located at the recently opened temporary gate area, which is a modular building adjacent to the south end of the terminal. The passenger seating area accommodates 240+ passengers and serves three boarding gates. This temporary gate area is now open so the airport can move forward with the largest infrastructure improvement project ever undertaken at AVL, slated to officially start this August.
"As we embark on the terminal expansion project, our goal is to make sure our passengers are comfortable during the process," said Lew Bleiweis, A.A.E., Greater Asheville Regional Airport (GARAA) President and CEO. "Paradies Lagardère has operated the Blue Ridge Tavern since 2011, and Cinnabon and Auntie Anne's since 2019. We are pleased to welcome their addition of Aletitude to the food and beverage offerings at AVL, which is a great way to provide some customer conveniences and comfort during our construction project."
"Asheville Regional Airport's recent growth has been very impressive, and we are excited to add our new Aletitude concept to support that expansion," said Gregg Paradies, President and CEO of Paradies Lagardère. "Aletitude offers an excellent bar program with popular selections from great local breweries as well as fresh and convenient snacks and grab-and-go. We greatly appreciate this opportunity and look forward to maximizing the overall dining experience at AVL."
Paradies Lagardère is a leading airport travel retailer and restaurateur in North America, operating more than 950 stores and restaurants in 100 airports. Specializing in three airport concessions areas - Travel Essentials, Specialty Retail and Dining with expertise in international, national, and local brands - Paradies Lagardère's commitment to exceptional customer service, superior design and award-winning retail and restaurant operations has earned the company numerous accolades, including Best Airport Retailer for 25 consecutive years and Best Brand Restaurateur by Airport Experience News. For more information, visit paradieslagardere.com. 
Serving more than 1.8 million passengers in 2022, Asheville Regional Airport is continuing its growth trajectory. Now the third largest airport in North Carolina, the airport is served by six airlines that provide nonstop service to 26 unique airport destinations. For more information, visit flyavl.com.
####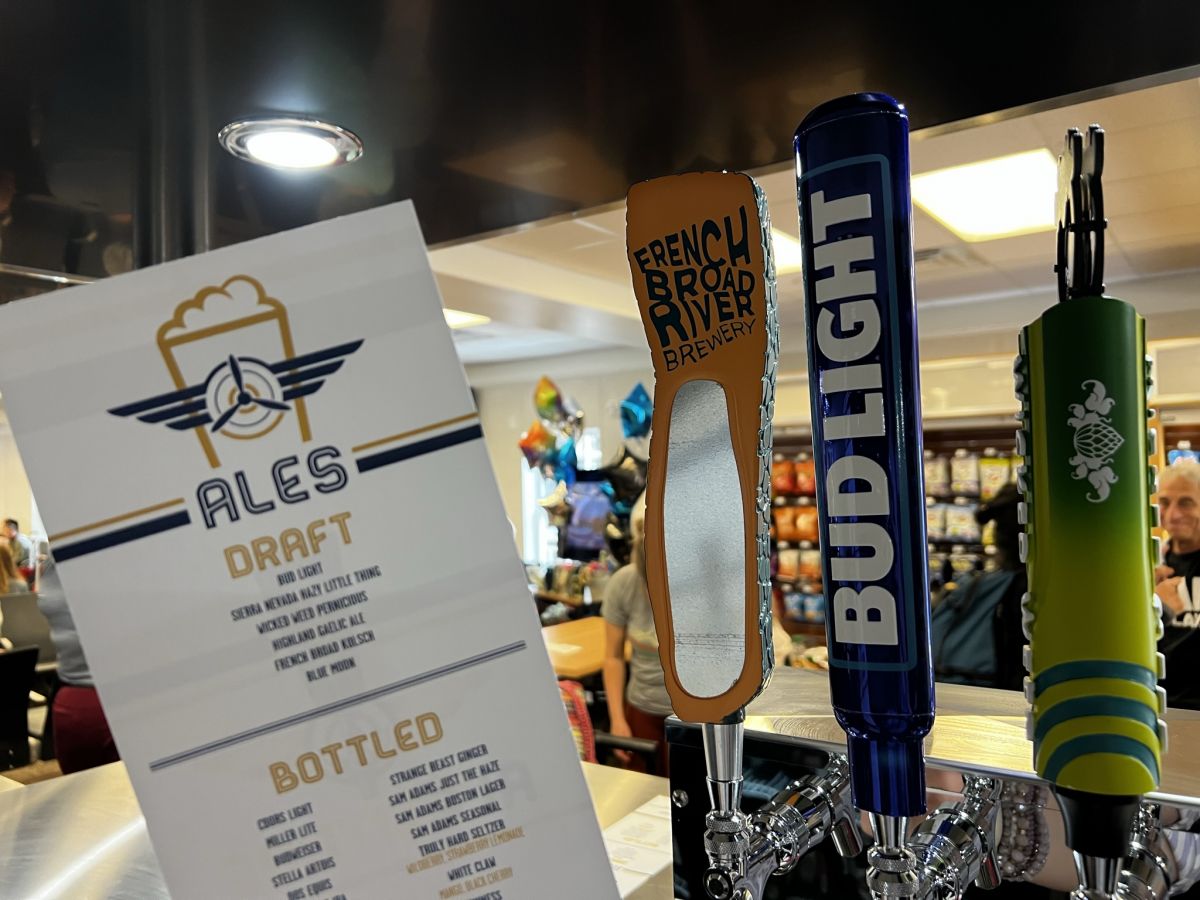 Pictured above, from the perspective from inside the bar.  Local brews on tap, right inside the new temporary gate area that will be in use for several years during the airport's terminal construction.