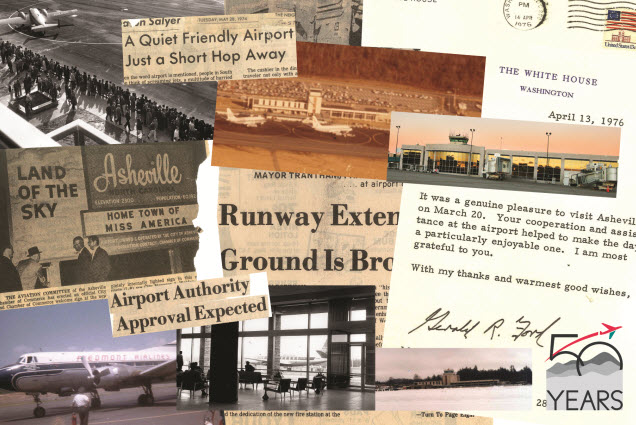 Today is the big day — we are celebrating fifty years!
When we realized 2011 was going to be the airport's 50th year, a question emerged: Is this a birthday or an anniversary?
Birthdays, we concluded, honor the one who is celebrating. Anniversaries, on the other hand, commemorate a relationship. Go ahead and call us cheesy, but we believe this celebration isn't just about the airport — it's about the community's loyalty to AVL, and vice versa. Relationships, as we all know, take a certain amount of work, dedication and mutual support. Through the years, we've done our best to give this community what it needs, and you, Western North Carolina, have supported us in return.
On that note, can we just say that we love how enthusiastic you are about Asheville Airport? If we continue with the analogy of a relationship, we can honestly say that it feels like our first months together, and we're definitely feeling the love. You compliment us nearly every day on how good we look, how you like us better than other airports, and how you can't wait to see us again. The feeling is mutual, and we'd just like to say that, without you, we wouldn't be who we are today. We also hear your constructive feedback on the areas in which we could use improvement, and we appreciate that too.
So Western North Carolina, thanks for the love. Here's to us, and to the next fifty years!