You'll find great amenities throughout the terminal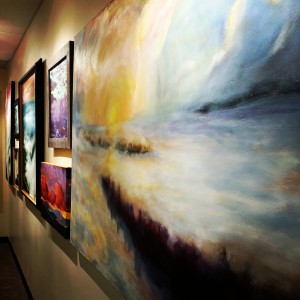 SHOP + DINE + RECHARGE
Free Wi-Fi
Recharge stations
Courtesy phones
Vending machines
Gift shops
ATM, pre-security
Café with restaurant menu, pre-security
Full service restaurant + bar, post-security
Business Center, near Gates 1-3, post-security
Guest Services Center, Baggage Claim
Water bottle filling stations, post-security
Rocking chairs, post-security
Postal box, pre-security
Art Gallery, pre-security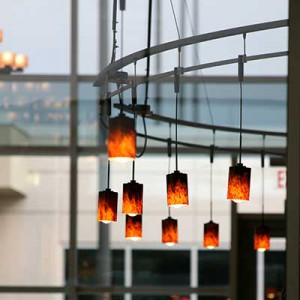 Guest Services
Located in Baggage Claim, our Guest Services Center is open from 8:30 a.m. until the last flight arrives in the evening. The friendly, knowledgeable staff at the Center will be happy to help you with:
Ground transportation arrangement
Directions
Area maps + brochures
Flight information
Luggage cart rental
Paging
Postage + shipping
Copying + faxing + scanning
Let us assist you: Phone: 828-209-3660 E-mail: gs@flyavl.com

Dining + Gifts
The Blue Ridge Trading + Tavern Featuring a full restaurant and bar, complete with locally brewed beer, the Blue Ridge Trading and Tavern should be a part of every traveler's experience. Enjoy panoramic views of the runway while you dine on delicious, custom creations. (post-security) In front of the Tavern you'll find our CNBC gift shop. With a wide variety of magazines, books (featuring the "Read and Return" program), travel essentials, Asheville apparel and gifts, and a variety of "local" products, there's something for everyone. (post-security) While you are in the main lobby area or if you are waiting to pick up a traveler, stop by the café area — where you can grab a coffee, snack, and a magazine or have a seat and order anything off of the full Tavern Menu. (pre-security)

Concierge Program for Travelers On-the-Go In a rush? Blue Ridge Tavern offers a treat to simplify your travels and please your palette. They can have your order ready for you at the Tavern, at your gate, or, get this, on your plane — it's all up to you! There's no extra charge for this first class service!
Give it a try! Here's how:
Call the Tavern at 828-654-6215
Place your order (at least 20 minutes prior to flight time)
/ Cash / Gift Certificate / Choose payment method
"Treat our Troops" — A small thank you to our brave servicemen and servicewomen Blue Ridge Tavern offers a great way to "Treat our Troops" with a token of appreciation. Simply add a $5 meal voucher to your tab or purchase at the tavern and the next enlisted soldier passing through the airport will get $5 towards their meal. This program is just a small way to say thank you to all the brave men and women in the service as they travel through AVL.